MONDAY, MARCH 4
SHAZAM!---new trailer released for the superhero movie.
Link:
https://www.youtube.com/watch?v=uilJZZ_iVwY&t=9s
GHOSTBUSTERS 3---Finn Wolfhard (STRANGER THINGS, IT) is in talks to play the lead role in the Sony Pictures sequel. Carrie Coon (AVENGERS: INFINITY WAR) is in talks to play his mother.
METAL GEAR SOLID---Oscar Isaac said he wants to star as Solid Snake in the movie based on the video game, "METAL GEAR SOLID, that's the one. I'm throwing my hat in for that one." Director Jordan Vogt-Roberts (KONG: SKULL ISLAND) posted a Photoshopped photo of Isaac as Solid Snake with the comment, "The Ball's in Oscar's court".
STAR TREK---details about the new Jean-Luc Picard series include the series is set in 2389, 20 years after STAR TREK: THE NEXT GENERATION, and Romulus was destroyed by a supernova. Picard must help establish a relationship between the Federation and what is left of the Romulan empire. Picard finds an alien artifact which plays a key part in the plot. Also, a list of characters was uncovered.
– Connie. Early 30s African-American woman. Mercenary pilot and widow with a bounty on her head.
– Lawrence. Early 30s man. A thief with a dodgy moral compass, and Picard's pilot for a mission.
– Starton. Early 30s man. A positronic brain specialist terrified of space travel.
– Dr. Smith. Holographic crewman. Programmed to avoid becoming too self-aware.
– K'Bar. Late teenage male Romulan martial artist extremely devoted to Picard.
– Indira. Early 20s woman. Smart, agile but socially inept and immature.
– Alana. 40s-50s woman. Former intelligence officer – analytical, paranoid, substance abuser.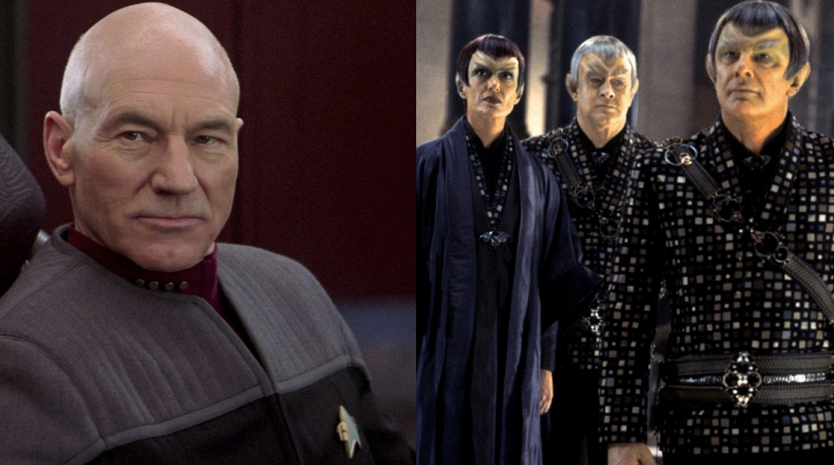 GAME OF THRONES---Season 8's Battle of Winterfell is the longest battle in series history and, "the longest consecutive battle sequence ever committed to film." It includes the following characters: Jon Snow, Daenerys Targaryen, Tyrion Lannister, Arya Stark, Sansa Stark, Brienne of Tarth, Jorah Mormont, The Hound, Davos Seaworth and Samwell Tarly.
REMINISCENCE--photo released of Hugh Jackman and Rebecca Ferguson starring in the Warner Bros. action thriller movie about a Miami private detective who retrieves memories for his clients and searches for a mysterious client he has fallen in love with after she disappears.
THE INVISIBLE MAN---Elisabeth Moss in in talks to co-star in the Universal Pictures remake of the 19333 movie based on the HG Wells novel.
THE WALKING DEAD---Chandler Riggs said he is disappointed Carl was killed off which prevented his relationship with Lydia, Alpha's daughter, from being fully explored as in the comic book storyline, "I was looking forward to a lot of the storylines, specifically with Lydia because it was just such a unique storyline for Carl and it meant so much to the storyline."
ZANBOTO---Guillermo del Toro is the writer/director of this Paramount Pictures movie about a young girl with lethal fighting abilities. No other plot details were released.
MARVEL STUDIOS---a rumor claims Wesley Snipes is returning for an R-rated sequel in which he passes the torch to his daughter. A second rumor says a Fantastic Four remake movie underway in which the superhero team explores outer space and Doctor Doom is not the villain.
CRITTERS---Syfy has supposedly filmed a movie based on the 1986 sci fi movie with Dee Wallace, who starred in the original movie. Bobby Miller (THE CLEANSE) is the director.
ACADEMY AWARDS---Netflix replied to the movement being including Steven Spielberg that wants Academy Awards to be limited to theatrical movies and excludes streamed movies, "We love cinema. Here are some things we also love:
– Access for people who can't always afford, or live in towns without, theaters
– Letting everyone, everywhere enjoy releases at the same time
– Giving filmmakers more ways to share art.
These things are not mutually exclusive."
ESTHER THE WONDER PIG---movie underway on the true story of a couple who adopted a supposedly five pound pygmy pig who grew to 650 pounds and became a social media star.
THE TORTILLA CURTAIN---tv series underway based on the novel.
TRIVIA---more James Bond movie trivia.
Alison Doody played Bond Girl Jenny Flex in A VIEW TO A KILL, Roger Moore's last Bond movie. Peter Jackson personally offered Doody the role of Eowyn in THE LORD OF THE RINGS: THE TWO TOWERS and THE RETURN OF THE KING, but she declined the role due to her pregnancy. The role went to Miranda Otto.
Alison Doody (left) played Bond Girl Jenny Flex in A VIEW TO A KILL.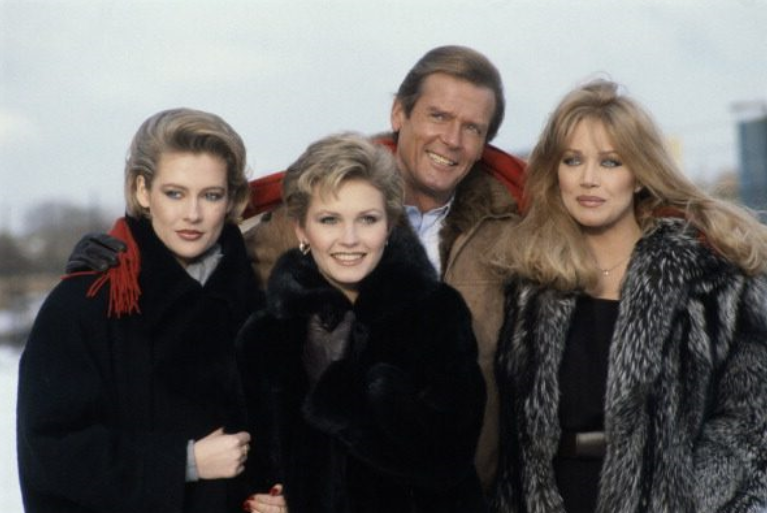 Doody declined the Eowyn role in two THE LORD OF THE RINGS movies because she was pregnant, so Miranda Otto got the role.